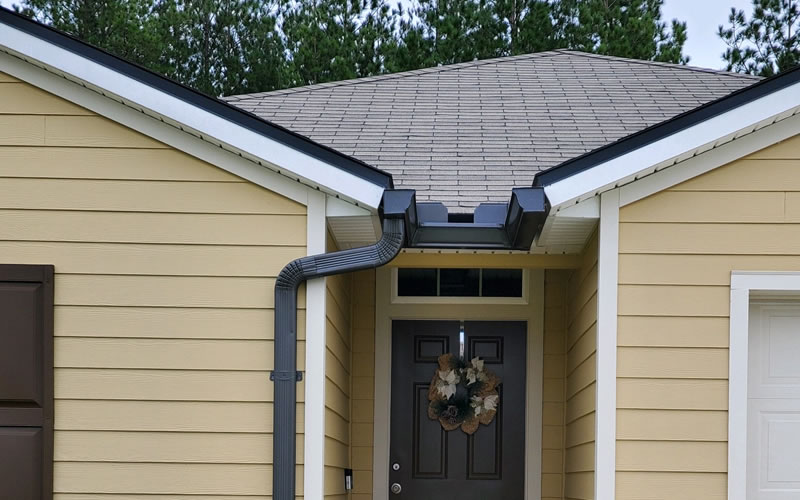 Do Your Gutters Need To Be Repaired?
We specialize gutter repair and replacement
Your gutters play an important functional role in how your home deals with the elements.  Gutters help channel the water that collects on your roof and disperse it into your drain field and away from your foundation.  Something as simple as a leaky gutter can actually cost many thousands of dollars in home repairs if the problem is left unchecked.
Gutters4Hire is a gutter company based out of Yulee, Florida and serving Northeast Florida and Southeast Georgia.  We specialize in repairing damaged or broken gutters and downspouts.  It's common for gutters to get damaged from wind, flying debris, backing up your boat or RV into the home, damage caused by other trades, and more.  If your gutters or downspouts have been damaged and you want them fixed we can help!
Gutter Repairs we Can Do:
Repair sections of damaged gutters.
Repair and reinstall downspouts.
Reattach gutters to fascia.
Replace gutter hangers.
Redirect downspouts into rain barrels
Gutter Repairs in Southeast Georgia
Over many years of service (or much sooner with a poor installation) your gutters will begin to look worn out.  They may pull away from the roof edge, become warped, bent and no longer functioning at their best.  We can replace gutter hanging systems, broken section of gutters from wind or storm damage and more.
If you'd like to request an estimate to have your gutters repaired or replaced on your home please give us a call (912) 576-9209 or fill out our contact form and someone will be getting right back to you.