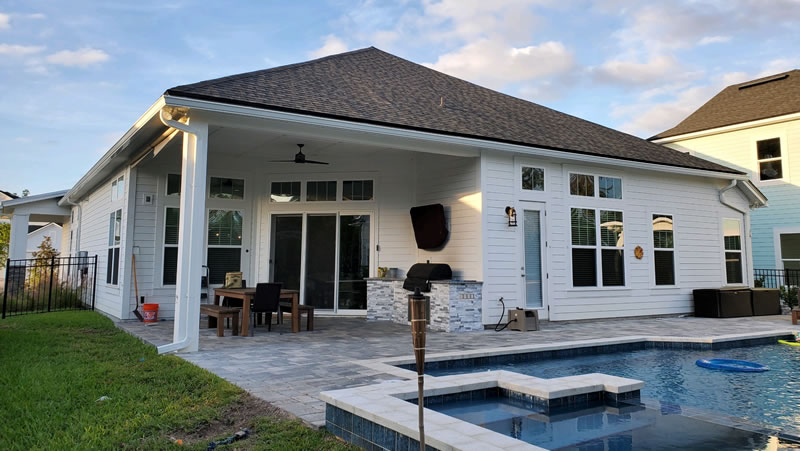 Everything You Need To Know About Seamless Gutters
All gutter systems are not created equal and they aren't installed equally either!  If you're looking for the best possible performance out of your rain gutters (this means the best protection for your home) then you're going to want to learn about seamless gutters.  Thankfully you've found this article because we're going to teach you everything you need to know about seamless gutters.
So what exactly are seamless rain gutters?  When you go the hardware or home building supply store you'll see length of gutters.  These lengths of gutters need to be joined together to run the length of your home or roof the gutters are being installed on.  These unnecessary gutter seams create places for leaks to develop.  A seamless gutter, is a continuous, seamless solid piece of metal, eliminating any possibility of a leak because there are no seams!
Why Choose Seamless Gutters Over Regular Gutters?
As explained above, no seams in your gutter means no opportunities for leaks to develop.  This protects your home by ensuring that the water is channeled away from your home and into your drain system.  This can protect your foundation from standing water and if you have a basement it can prevent leaks.  The seamless gutter designs we use at Gutters 4 Hire are also much stronger than a regular gutter and will withstand the elements and unintended mishaps much better than a cheaper alternative.
Seamless gutters don't just perform better, they also look better too.  The smooth, seamless appearance of the underside will compliment the roof lines of any home.  When we install seamless gutters they are custom built on-site to fit your home, exactly.  A solid, and visually appealing gutter system will increase curb appeal and give you peace of mind, knowing you have a durable product that can stand up to the elements and protect your home.
What Are Gutters 4 Hire Seamless Gutters Made From?
We can use a variety of materials for your seamless gutters depending on the appearance you'd like or your budget.  Typically made from aluminum or steel in the thickest gauge possible for strength and durability but we can also make seamless gutters out of more decorative materials such as copper, which is a beautiful way to accent your home with something unique.
Why Choose Copper Seamless Gutters Over Aluminum or Steel?
Yes, before we even get started, Copper Seamless Gutters are more expensive than aluminum or steel but there are significant benefits.  Starting with the fact the copper doesn't rust like steel gutters.  Copper rain gutters are also extremely durable and do very well in subzero weather and the heat of summer.  Another benefit to Copper rain gutters is their unique appearance offers an instant boost to your curb appeal and creates more interest around your home.  As your Copper gutters age they will form a beautiful patina finish through oxidation.  If you already have a copper roof or other natural accents around your home such as stone siding, copper gutters will look fantastic.
All Seamless Gutter Hanging Systems Are Not Created Equal!
Seamless gutters are only as good as the system that's holding them up and we can tell you from experience that all gutter hanging systems are not created equal.  In fact, for many homeowners who've gutter systems we've fixed and replaced their point of failure was a poor gutter hanging system.  The gutters came loose or completely detached from the home, this isn't a problem you want to have happen to your home in the middle of the rainy season.
Gutters 4 Hire uses heavy duty hidden brackets or hangers along with a 3″ screw that is installed every 2 feet along the gutter and also screwed to the fascia board creating an extra strong gutter hanging system that when properly maintained should last forever and will be unaffected by the expansion and contraction of the gutter throughout the seasons.
5″ or 6″ Gutters Is There Really That Much Difference?
Yes, actually there is.  In most applications, we recommend a 6″ over-sized seamless gutter unless the home is really small (less water to channel away) or we are replacing a section of gutter to match existing 5″ gutters.  If you want the best performance from your gutters and have a larger roof area to channel away water from then 6″ gutters along with the larger 3″x 4″ leaders are able to handle approximately 50% more water than a 5″ gutter.  Further decreasing the chance for overflow of your gutter even during the hardest downpours.
What Colors Are Seamless Gutters Available In?
Ask us about our selection of colors that will coordinate perfectly with your siding, fascia, stucco or exterior trim to enhance your home or business's curb appeal.  All of our seamless gutter colors are a baked on enamel performed at the manufacturer very similar to how your car is painted.  This is to ensure the paint on your gutters will last as long as the gutters themselves.
How Long Does It Take To Install Seamless Gutters On Your Home?
For most of the homes we work on the seamless gutter system can be installed in one day, for larger homes with more complex roof lines or multi-story homes might take 2-3 days.  Are we removing an old gutter system?  Are we working in a difficult to access area?  There are many variables that can affect the amount of time it will take to install your seamless gutters but 1-3 days is a good ballpark without seeing your specific project.
How Much Do Seamless Gutters Cost?
Seamless gutters are usually estimated by the linear foot and there are a number of specifics that can affect the cost.  Do you want 5″ or 6″ gutters?  Do you want them made from decorative copper or painted aluminum?  How many stories is your home?  How many corners are there a long your roof line?  It's almost impossible to give you an accurate estimate on cost over the internet without seeing your home or at least knowing the linear footage of your roof line, of each story if it's a multi-story home.  Using technology we can sometimes determine a rough cost using Google Earth to view your property using satellite imagery.
What About Gutter Protection From Leaves and Debris Build Up?
The bane of every gutter system is that they must be cleaned out regularly to ensure they are performing and not backing up.  Leaves, moss, sticks, roofing granules and other debris can build up quickly in an unprotected gutter causing clogs and overflows.  If you're paying professionals to clean your gutters out every year then a gutter protection system is something you'll want to consider if you are going the seamless gutter route because they can pay for themselves in a few years.
There are literally dozens and dozens of gutter leaf protection solutions on the market but we've had the best results with the two we recommend and install.
Aluminum Drop-in Gutter Protection Screen. This is the most affordable option when it comes to gutter protection.  The Gutter screen is installed underneath first row of shingles and is fastened with screws to the top lip of the gutter.  While gutter screens are very effective at keeping debris out of your gutter they can still collect shingle granules and will also need to be cleared of leaves, sticks and other debris a few times per year.  If you don't keep them clear they will can clog.  Keeping them clear is as simple as running a stiff brush along them once or twice per year or if you see any build-up.
The Gutter Shield is a solid cover that we install onto your gutters.  The specific design only allows the rain water to enter the gutter through a small horizontal opening on the front edge. Water hugs the nose of the gutter and flows into the appropriate channel through a process called "surface adhesion" while the leaves and debris are simply swept over the edge and fall to the ground.  Even though it's a much more effective solution it's still something you'd want to inspect once or twice per year.
If you'd like to request an estimate to have seamless gutters installed on your home please give us a call (912) 576-9209 or fill out our contact form and someone will be getting right back to you.